Safeguarding
Bluecoat Primary School is committed to safeguarding and promoting the welfare of children and expects all staff and volunteers to share this commitment.
We have a number of policies and procedures in place that contribute to our safeguarding commitment, safeguarding policies can be found in our policies section.
Sometimes we may need to share information and work in partnership with other agencies when there are concerns about a child's welfare. We will ensure that our concerns about our pupils are discussed with parents/carers first unless we have reason to believe that such a move would be contrary to the child's welfare.
We actively support the Government's Prevent Agenda to counter radicalism and extremism.
Our Designated Safeguarding Lead is Mrs Sue-Ellen Shaw (Head Teacher). Our Deputy Designated Safeguarding Leads are Mr Chris Smith (Deputy Head), Mrs Ponty (SENCO), and Our Family Support Worker is Miss Kathryn Brown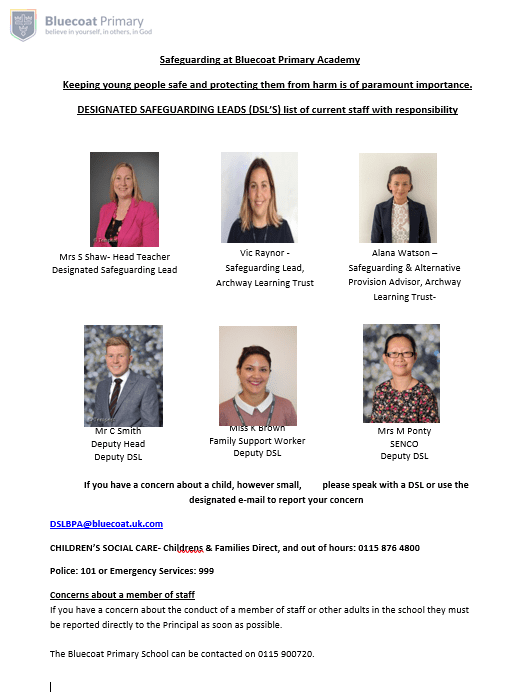 Our Academy Advisory Board member with responsibility for safeguarding in our school is Mrs Sally MacDonald.
To contact them please phone school on 0115 900 7200 or email DSLBPA@bluecoat.uk.com
The Bluecoat Primary School Safeguarding Contact is-
Sue-Ellen Shaw- Headteacher sshaw@bluecoat.uk.com
If you need to contact Family and Children Services or report a concern the number is 0115 8765600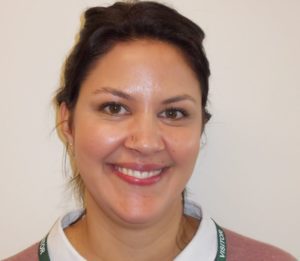 Hi, my name is Kathryn Brown and I am the Family Support Worker based at the Bluecoat Primary Academy.  I joined the Primary in Sept 2020, after working in a number of Primary Schools  in Nottingham City and London.
The Family Support Worker Role
The Family Support Worker role at Bluecoat Primary Academy is to provide support, advice and information to the families within our school community.  The Family Support Worker can help you with any worries that you may have in relation to your child's education, behaviour and wellbeing they are also here as someone to talk to if you need it.
Advice and support is confidential although concerns relating to the safeguarding of children will always be dealt with in accordance with the school's Safeguarding and Child Protection Policy.
​Support for families includes:
providing information and signposting to other services in the local area
liaising with a range of external services such as health, housing and Social Care
assistance in completing paperwork and forms e.g. housing, school places and benefits
advice and support in promoting positive behaviour management at home
guidance with career and personal development and access to training and parent workshops in school
regular coffee morning to pop in and have an informal chat and meet other parents
How to get in touch:
The Family Support is usually around on the playground in the mornings so feel free to come and have a chat, or alternatively you can leave a message with reception and they will get in touch to agree a suitable time to meet with you.
NB: If you do not feel confident enough to come and speak with me face to face you can email me on: KBrown1@bluecoat.uk.com and we'll take it from there.