Why do we teach Geography?
Geography is a key learning tool needed to understand the world in which we live. Geographical study encourages enquiry and provides answers to many questions concerning the human and natural aspects of our world. Through our Geography curriculum at Bluecoat Primary Academy, we strive to equip children with a secure understanding of where they fit into the world geographically. We desire that children will develop an enquiring mind, curiosity for the natural world and its inhabitants, and believe it is essential that children leave Bluecoat as informed global citizens with a keen awareness of humankind's relationship with nature and our impact on the natural world locally, regionally and globally.  The curriculum develops our children's aspirations, knowledge and skills needed to explore the rich and varied world they live in, through the exploration of different cultures, regions, biomes and habitats, through fun, engaging and challenging learning experiences.
How do we teach Geography?
A strong understanding of place is key to our Geography curriculum. This knowledge is built systematically from the 'Understanding the World' strands in Early Years, to children learning about their locality, city and country in Key Stage 1, all the way to identifying our oceans, the tropics, the poles, continents – and more – in Key Stage 2. Once this is secure, at each stage of learning, our children deepen their geographical understanding by identifying patterns in human behaviour; be it local movement, the use of waterways or coastlines for settlements and other related environmental issues.  Being a diverse community of learners and families, our context at BPA allows for a greater shared knowledge of the impact of how what we do in our locality impacts other fellow global citizens in different regions of the world.  By combining sound place knowledge and enquiry skills, along with our context, our children are able to participation in learning in a deeper way and are encouraged engage to be part of something special and to make a difference.
What do we teach in Geography?
To ensure that our children are receiving a broad and balanced curriculum in Geography, the content they cover develops as they progress through school, with children revisiting key themes in greater depth in subsequent school years.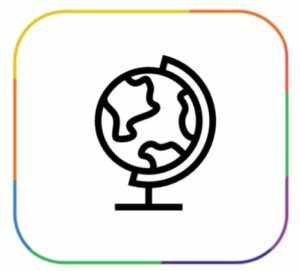 Click on the icon above to see the progression of content taught throughout each year group.
Geography in Action.
Take a look below at some of the things that we have been getting up to in Geography over the last half term.